Sports bras are bras designed to provide higher-impact support during exercise. Sports bras come in a variety of styles, including full coverage, racerback, wire free, and underwire.
Finding an everyday bra you love is hard enough, but shopping for a good sports bra for large breasts is a whole other ball game. If you have saggy breasts, finding a quality sports bra that provides the lift and support you need can be a challenge.
 When shopping for sports bras, there are so many factors to consider. What level of bounce control do you need? Do you really need an underwire? Do you just get the same size as your regular bra? What about sports bras for large breasts, sagging breasts, or plus-size women?
It's enough to make your head spin. We'll go through all of these questions and take the mystery out of buying a good sports bra, and give our recommendations for the best high-impact sports bras for any workout.


The 4 Best Sports Bras That Prevent Sagging
Whether you prefer the support of an underwire or would rather be wire-free, there are all different styles of sports bra for high-impact activities. Here are our top picks for high-impact sports bras:
Most Comfortable Sports Bras
Price: $59
Review: 4.7/5 Stars
If you've ever felt the need to double up your sports bras for more support, you're not alone. But we believe one good sports bra should do the trick, which is why we designed this patented sports bra technology that lets you customize support with a simple strap adjustment. This wire-free sports bra features an adjustable front panel layered over seamless molded cups, which puts compression in your control and combines the support of two bras into one. This sports bra is perfect from yoga to HIIT workouts and is fit for sizes up to 46I. Need we say more? Here's why women love this innovative sports bra:
"Finally found the sports bra for me! Love the support and it's cute, too!" - Stephanie G.
"Great fit. Love the adjustable front." - Tracey H.
"Wow! This is the most comfortable and supportive sports bra ever! I love how adjustable it is so you can add more/less support depending on the activity." - Renee J.
"Gives good support for large cup sizes, which is really hard to find." - Peggy H.
"I've never had a bra fit so well since middle school. I am very happy. I feel more comfortable wearing shirts now." - Taylre B.
Best Underwire Sports Bras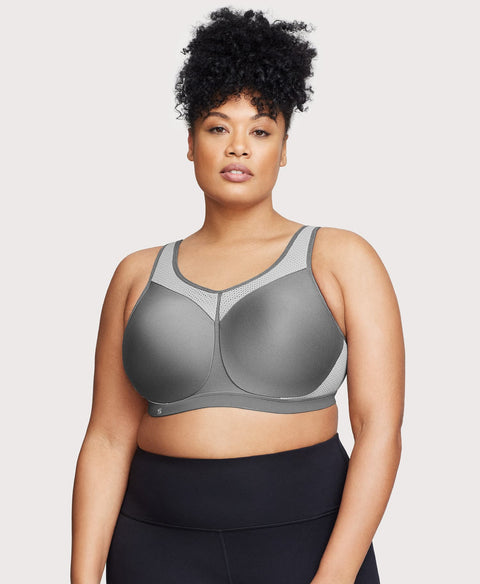 Price: $64
Review: 4.5/5 Stars
Here's the thing: boobs are heavy. For women with larger chests, oftentimes only an underwire feels supportive enough to hold them up. But with this high-impact sports bra , all you'll feel is the support, never the underwire, thanks to three layers of cushion that surround the wire.
Plus, double-layer molded cups provide double the encapsulation, which keeps your boobs securely separated to prevent uniboob during your favorite high-impact workouts. Don't just take it from us — this underwire sports bra is a favorite for many women:
"Great support. Super comfortable for active wear." - Susan D.
"Great sports bra. It's comfortable and it doesn't bind or pinch. Very little bounce when exercising." - Sevilla J.
"It's a terrific sports bra. Great support and really comfortable. I've worn it several times for long periods of time from gym to home/housework." - Claire M.
"This bra is my favorite from Glamorise. It is supportive and so comfortable. I work out in it and wear it for long work days. It is also breathable." - Julie S.
Best Wireless Sports Bras
Price: $47
Review: 4.8/5 Stars
No underwire, no problem — the No-Bounce Camisole Elite Sports Bra will keep you securely supported through any HIIT workout. With non-stretch wire-free cups that provide bounce control and a camisole design with a breathable mesh panel, this sports bra is all about full coverage support.
Plus, this sports bra features high performing moisture-wicking fabric, which keeps you comfortably cool and dry, and padded straps that you can adjust as needed. This sports bra is a favorite for any workout, and here's what women have said about it:
"I love this bra. It has great coverage. The material doesn't bother my skin. The comfort level is beyond belief. Being a very large-chested woman, I am very comfortable at the gym in this bra." - Stacy M.
"I was looking for a sports bra that was supportive enough for running. This bra met the challenge. No bounce!" - Jeannine B.
"Love this bra! It is comfortable and very supportive. I prefer to wear something like this everyday over a regular bra. The band in the back is nice and wide so it is smoothing under shirts." - Camille B.
Best Adjustable Sports Bra
Price: $66
Review: 4.7/5 Stars
If you're looking for an underwire sports bra that will provide all the support you need (and then some!), look no further than the Custom Control WonderWire Sports Bra . This sports bra features our patented adjustable front panel with four levels of adjustment that lets you customize support for any workout. The underwire features an added cushioned channel to prevent wire poke, and adjustable straps and a back hook-and-eye closure let you adjust to your perfect fit. For women looking for the utmost high-impact support, this bra is a no brainer. Here's what our customers have said:
"Very comfortable for a wire bra. I also like the adjustable outer covering. It is attractive and of very good quality. The fit is great and it is good looking, too. Runs true to size. 42G and the fit is great." - Mary B.
"Good support, comfortable. I have struggled finding a comfortable supportive sports bra and this has become my favorite." - Maria G.
"At 70 years old, I have tried hundreds of bras throughout my life and this bra is a game changer. It is so comfortable and so supportive. I can't tell you how much I love this bra. It's very adjustable and so very comfortable!" - Barbara H.
"The bra has an awesome fit. It offers great support and nice shape without feeling too tight around the chest. It reduces bouncing considerably and takes away a good amount of the heaviness of large breasts." - Gratiela T.
There are many factors to consider when it comes to shopping for sports bras. Between knowing what size you wear, the support level you need, and what style you like, finding the right sports bra can be tricky, but purchasing an affordable sports bra that provides the comfort and support you need is essential. If you're still not sure what sports bra is best for you, take our quick Bra Finder Quiz and we'll give you a list of sports bra recommendations you'll be sure to love.
 Why do I need a sports bra?
Two words: tissue damage. Even just walking can be enough to cause your breasts to bounce not only up and down but from side to side as well, which is what can cause tissue damage that leads to breasts sagging.
Contrary to what most people think, breasts actually move in a figure 8 pattern during activity. This bouncing causes the skin and ligaments to stretch. Appearances aside, boob bounce can be painful! And once the skin and ligaments stretch, there's no going back. Stretching of the skin and ligaments leads to sagging and can even cause bruising.
Not wearing a good sports bra during exercise can also cause pain in the upper torso, namely the back, shoulders, and neck. A supportive sports bra will prevent painful boob bounce and keep your boobs comfortably supported during higher-impact activities.


What's the difference between a sports bra and an everyday bra?
A sports bra is a garment designed to significantly reduce the movement of your breasts during physical activity. A regular or everyday bra, such a front-closure bra, simply isn't built to support breasts during high-impact movements.
While your regular bra may be supportive and reduce bounce in your everyday life, it can't reduce high-impact movement in the same way a sports bra can. Even if you feel comfortable working out in your everyday bra, wearing a sports bra is always recommended as they are specifically designed to support the bust throughout exercise and high-impact activities.
You may think that you won't be able to find a sports bra as comfortable as your normal bra, but that's simply not true. Sports bras have come a long way since their creation in the 1970s, and there are many different high-impact sports bra styles to choose from in both wire-free and underwire versions.


How do sports bras work?
Sports bras work by providing compression and encapsulation of the breasts: a good sports bra is one that does both. Compression hugs the breasts against your chest for snug support, while encapsulation separates the bust to prevent uniboob and chafing. The right sports bra comfortably provides both compression and encapsulation, which is why   are such a great option for women with larger chests. Dealing with annoying (and painful) uniboob or breast chafing is the last thing you need when working out.


Is a sports bra good for larger busts?
Yes! Breasts weigh more than you think. Even when you're simply standing up or sitting at your desk, gravity is constantly pulling on your chest, forcing your back, shoulders, and neck to work against gravity to keep you upright. The heavier your breasts are, the more your body has to work to counteract this force.
When doing high-energy workouts, a sports bra is simply a necessity, especially for women with large busts. A supportive sports bra will keep your breast tissue close to your chest and prevent painful boob bounce, and will redistribute the weight of your breasts evenly to relieve strain on your back and shoulders. Wearing a sports bra is a must for women with large breasts simply to prevent painful boob bounce, which can do more damage than you might realize.


How do I choose a sports bra for heavy breasts?
When choosing the right sports bra for you, you should take into account your cup size and your activity level. The larger your cup size the more bounce control you'll likely need, regardless of the type of activity you're doing. Sports bras typically come in light, medium, and high-impact bounce control levels.
For activities like yoga, walking, and most strength training, a light or medium impact sports bra will work well. Hiking and cycling will likely require a medium impact bra, and running, aerobics, and any type of HIIT workouts need a high-impact bra.
Generally speaking, if you have a large cup size, you should always go with more support than your activity calls for, just to be safe. More support is always better than too little. No one wants to deal with painful boob bounce during a workout.


Consider these factors when choosing the best sports bra for saggy breasts:
Fit: The best sports bras for saggy breasts will be sized the same as your everyday bra, in band and cup sizes. Generally speaking, however, sports bras may fit a bit more snugly than your everyday bra. This is because they are made of non-stretch fabrics and are designed to provide support for higher-impact activities.

Fabric: A good sports bra will be made of durable, non-stretch fabrics that provide a secure fit and keep you comfortably supported. Most sports bras are also made of moisture-wicking fabric that keeps you cool and dry throughout your workout and prevents skin irritation as well.

Straps: Choosing a sports bra with adjustable straps is also important. Being able to adjust your shoulder straps helps to lift your bust, which is especially important if you have saggy breasts. Many sports bras also feature padded shoulder straps which helps prevent shoulder strain, especially if you have large sagging breasts. A sports bra with racerback straps also helps to lift saggy breasts breasts and bring wide-set breasts together.

Support: Like everyday bras, sports bras come in a range of support levels from low, medium, to high support. If you have larger sagging breasts, you may want a medium- or high-support sports bra, even for low-impact exercise. Generally speaking, an underwire sports bra will provide extra support for saggy breasts. However, it does come down to personal preference on whether you prefer a wireless or underwire sports bra, and many women find that they receive adequate support from wireless styles.
How do I know what size I need in a sports bra?
Making sure that your sports bra fits correctly is so important. An ill-fitting bra can cause chaffing, pain, and if it's not supportive enough it can even cause tissue and muscle damage.
When shopping for a sports bra, look for one in the same size as your normal bra, provided that your normal bra fits properly. If you're not 100% sure of your size, it's time to re-measure. Check out our   to learn how to measure your bust and band sizes, then simply plug your measurements into our   to get your size.
As a general rule, you should stay away from sports bras that come in sizes like "Small", "Medium", or "Large". This one-size-fits-most sizing likely won't be a great fit, especially if you have a larger chest, and you certainly don't want your boobs spilling out of the cups during your workout.


What is the proper fit for a sports bra?
Generally speaking, a sports bra will fit more snugly than an everyday bra. As long as it's not uncomfortably tight, it's probably okay. Since the band of the bra provides the majority of the support, do make sure that the band on your sports bra is tight enough. You should be able to fit two fingers underneath — no more and no less. If you're looking for the most supportive sports bra, note that a wider band will typically provide more support than a narrow one.
Having a sports bra with adjustable straps is also crucial to getting the perfect fit. When you put on your sports bra, you should always adjust the straps if needed and check to make sure that the band isn't riding up in the back.
Next, check the fit of the cups. Your breast tissue should be completely encapsulated in each cup. Center your breast tissue if needed. Your breasts shouldn't be spilling out of the top or out of the sides. If this is happening, you might need to go up one cup size.
 
What is the best material for a sports bra?
A good quality sports bra should be made of materials that will allow your skin to breathe, as well as wick away moisture. Breathable fabric like polyester, nylon, and spandex all allow your skin to breathe and keep you cool and dry throughout your workout.


Should I wear a wire-free or underwire sports bra?
An underwire sports bra will offer an extra level of support. For women with bigger busts, an underwire is crucial for getting the utmost support, though wire-free sports bras are also a good option for lower-impact activities. If you prefer a wire-free sports bra, look for one with encapsulated, non-stretch cups that will provide enough support while also keeping the breasts comfortably separated.


How do I make sure my sports bra lasts?
To make sure that your sports bra lasts as long as possible, hand wash them in cool water to preserve the elastic fibers.
You should avoid fabric softeners and bleach as these can break down the material and shorten the lifespan of your bra. Lay the bra flat to dry to preserve the cup shape and elasticity. Never put your sports bras in the dryer.


About the Author
Maeve Gesualdi is a Fordham University alumna where she earned a Bachelor of Arts in Communications and Fashion Studies. Based in New York City, Maeve is part of the marketing team at Glamorise. Maeve regularly interacts with customers via social media and product reviews, as well as with influencers and models. She is constantly getting feedback on our products as well as gaining a better understanding of what women in our category struggle with and/or look for when searching for a bra. Aside from writing, she is passionate about all things travel and fashion.



Related Posts:
Lift, Shape, and Support With Comfort and Style