If you are someone who tends to close your bra in the front and spin it around, or if you just want to stop having to reach behind your back, there's a solution. Enter the front-closure bra.
Front-closure bras are a type of easy-to-use bra that fastens in the front, unlike standard bras that close in the center of your back. Front-closure bras use several types of fasteners, such as hooks, snap buttons, clasps, or zippers, which make them easier to close than traditional rear-closure bras.

Having a bra that fastens in the front can be a huge plus for anyone who struggles to reach behind their back or anyone has any kind of arm or shoulder mobility issues. With a front-closure bra, you won't have to struggle with reaching behind you or spinning your bra around to fasten it. Plus, the smooth, wide back band that front-closure bras have can also help smooth out the back and eliminate any rolls and dents that a traditional back-closing bra can create.

Keep reading below for our complete guide to the best front-closure bras.
Here are the 8 best front-closure bras
Whatever type of bra you prefer, there is a wide range of front-closure styles to choose from. Glamorise carries both wireless and underwire front-closure styles in band sizes 30 to 58 and cup sizes B through K. Here are the best front-closure bras we recommend:
Price: $48
Review: 4.5/5 Stars
The MagicLift Front-Closure Support Bra reimagines our best-selling wireless bra design with an easy-to-reach front-closure. This bra has a set of hook-and-eye closures with multiple settings and wide, adjustable straps for added comfort. This wireless bra provides comfortable shape, lift and support thanks to the MagicLift design, and comfortably supports band sizes 38 to 58 and cup sizes B through I.
Price: $54
Review: 4.7/5 Stars
The Front-Closure T-Back WonderWire Bra features an easy on, easy off snap front clasp and a low cut neckline. This style is great to wear with lower-cut, sleeveless tops as the T-back design makes for a no-show straps under clothing. Plus, the padded underwire provides comfort and support through the day. Fit for sizes 34B to 48H, this style is a favorite amongst women of all bust sizes.
Price: $52
Review: 4.7/5 Stars
The WonderWire Front-Closure Bra is one of our best-selling front-closure styles. This bra features an easy-to-reach front clasp, extra-wide adjustable straps, and a padded underwire for comfortable support. Fit for band sizes 34 to 50 and cup sizes B through H, this is one of the best front-closure bras for women of all sizes.
Price: $37
Review: 4.5/5 Stars
If comfort is the first thing on your list when shopping for a bra, the Front-Closure Cotton T-Back Comfort Bra is the perfect bra for you. This leisure bra features self-adjusting stretch cups made from a soft cotton fabric that comfortably contour to your bust shape. With a front hook-and-eye closure and breathable lace T-back, this bra is all about breathable support whether you're lounging at home or out running errands.
Price: $58
Review: 4.4/5 Stars
For an allover smooth look, the Front-Closure Smoothing WonderWire Bra is a great choice. With a wide stretch racerback and snap front-closure, this bra evens out creases while providing all-around support. Fit for band sizes up to 48 and cup sizes through H, this style is a must-have for anyone looking for a bra as smoothing as it is supportive.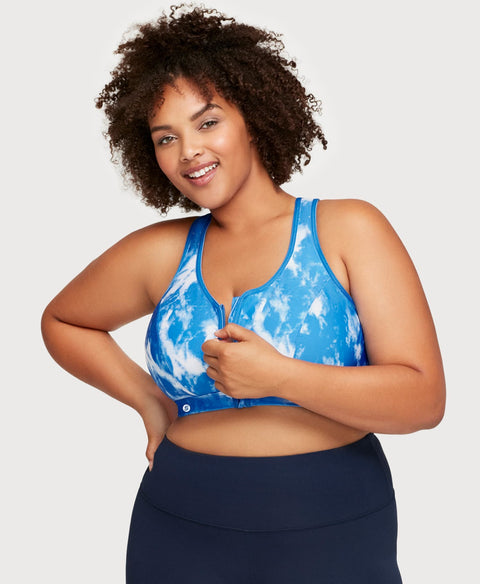 Price: $63.00
Review: 4.1/5 Stars
This front-closure sports bra is a game changer. With a zipper front closure, criss-crossed back straps, and an added back band adjustment, this sports bra is all about easy on, easy off support. Fit for sizes up to 48G, this sports bra goes on with ease and will comfortably support you throughout your favorite workouts.
Price: $53.00
Review: 4.1/5 Stars
When it comes to bras, it doesn't get much more comfortable than a wireless front-closure style. The MagicLift Natural Shape Front-Closure Bra is one of the best front-closure bras as it offers comfortable, breathable support all day long. With softly rounded cups, an inner sling for side bust shaping and support, and plush adjustable straps, this is one the best front closure bras that provides comfortable, all-day support. This front-closure bra fits sizes up to 56I.
Price: $57
Review: 4.7/5 Stars
If you often deal with your bra straps slipping off your shoulders, then this is the best front-closure bra for you. This underwire bra features stretch lace cups and kicked-in adjustable straps that won't slip off your shoulders. Plus, the easy snap front clasp and low-cut neckline let this bra pair perfectly underneath any top. This racerback style is one of the best front-closure bras for women of all bust sizes, and comfortably supports sizes up to 46G.
Price: $58
Review: 4.3/5 Stars
If your other bras leave you needing more back support, look no further than this wire free bra. Featuring criss-crossed back panels that pull shoulders back to improve posture, this posture bra helps alleviate back and shoulder strain. In a wide size range from 36B to 58K, this posture bra is perfect for everyday wear and also is a great T-shirt bra. Plus, this bra features adjustable straps and a hook and eye closure for easy wear.
How do front-closure bras work? 
Depending on the style, front-closure bras either have a hook-and-eye closure just like back closure bras, a single plastic or metal clasp that snaps into place, or a zipper closure (like our front-closure sports bra). Make sure you buy a quality bra with a secure clasp to avoid any wardrobe malfunctions.
Why do most bras hook in the back?
Bras that hook in the back may seem like something that could've only been invented by someone who never had to wear one, but there is a practical reason for them. Back hooks allow space for multiple columns of hook-and-eyes which allow you to adjust your bra tighter as they stretch out with wear and washing.
For this reason, we recommend that when you buy a new bra to make sure it fits snugly on the loosest set of hooks. If you wear your bra on the tightest hook from the start, you won't be able to adjust it to your fit as it inevitably stretches out over time.
Here is how front-closure bras compare to back closure bras. 
How do you wear a front-closure bra? 
One of the best things about a front-closure bra is how easy it is to put on. Simply slip your arms through the straps and position the closure in the center of your chest, then hook, snap, or zip it into place.
If your front-closure bra has a hook-and-eye closure, secure each hook starting at either the top or bottom, whatever is most comfortable for you. For a single clasp closure, slide the pin into the opposite side and snap closed. 
After slipping into your bra, bend forward a bit to make sure that your breasts are properly positioned in the cups, and check the back of your bra and make sure that the band is even and lays flat against your body.
Also, check that the straps are tight enough but not so tight that they dig into your shoulders or start to pull the back of your bra higher. If your bra band is riding up in the back, this might be a sign that you need a smaller band size.
How do you take off a front-closure bra?
Simply unhook or undo the clasp in the front and remove the straps one at a time, then slip the bra off like you would a jacket. Try not to stretch the bra any more than necessary to help extend the life of your bra.
Why are front-closure bras good for large breasts?
There are many benefits of wearing front-closure bras for women with large breasts. Here are a few of the top benefits of a front-closure bra:
They create a smooth look under tight-fitting clothing. Front-closure bras are great for creating a smooth back. Not having the bumps from traditional hook-and-eye closures in the back lends to a more figure-flattering look.

They have low necklines. Bras that close in the front generally have lower necklines, and are great for wearing with lower-cut tops.

They are incredibly convenient. These bras are easy to put on and easy to take off. For people with mobility issues of any kind, this is a huge plus and avoids any added shoulder or back strain.

There are many styles to choose from. With lace, racerback, T-shirt, posture support, or casual leisure styles, front-closure bras are incredibly versatile.

They can show off cleavage. Certain front-closure bras with a snap clasp typically bring the breasts closer together and are lower-cut to create a sexy look.
Are there wire-free front-closure bras?
Yes, you can find just about any style bra with a front closure. Many women prefer wire-free bras because they provide comfortable shaping and support without an underwire. Here are some of the reasons why wire-free front-closure bras are a great choice:
They're easy to put on. Again, with a front-closure bra, there's no need to reach around your back to fasten it.

They're comfortable. Most women will agree that a wireless bra is more comfortable than a wired one. If you've ever had a wire pop out of the lining or break and poke you, you know how uncomfortable, and sometimes painful, that can be. With a wireless bra, there's no worry that a stray wire will break accidentally or poke you in the underarms, which sounds like a win-win to us!

They can be great for lounging around or sleeping. If you're someone who prefers to wear a bra even when relaxing at home, a wireless front-closure bra is the way to go. Without the closure in the back, there are no uncomfortable bulges to lay on, just a smooth fit all the way around.
How to choose the right front-closure bra?
When choosing a front closure bra, think about the level of support that you'd like.
Front closures that use hook-and-eyes tend to offer more support and coverage than those that close with a single clasp, and also generally have two columns of hook-and-eyes so you can adjust to your desired fit. Also, think about whether or not you want an underwire. With an underwire front-closure bra, you won't have the option to adjust the fit of the band.
For comfort, ease, and versatility, every woman should have at least one front-closure bra in their collection. With many styles to choose from, there are front-closure styles for every woman looking for a comfortable and stylish bra. Browse our complete Front-Closure Collection to find the perfect bra for you.
About the Author
Maeve Gesualdi is a Fordham University alumna where she earned a Bachelor of Arts in Communications and Fashion Studies. Based in New York City, Maeve is part of the marketing team at Glamorise. Maeve regularly interacts with customers via social media and product reviews, as well as with influencers and models. She is constantly getting feedback on our products as well as gaining a better understanding of what women in our category struggle with and/or look for when searching for a bra. Aside from writing, she is passionate about all things travel and fashion.
Related Posts:
Lift, Shape, and Support With Comfort and Style