Support bras are designed to provide full coverage, lift, and support. A support bra provides full coverage and lift to prevent breasts from sagging. Support bras are also comfortable and stylish have become a favorite for many women for this reason.
When it comes to finding the perfect bra for you, having one with ample support is crucial. There are countless bra styles that offer ample support for women with large breasts, including comfortable wireless bras, super-supportive underwire bras, and even sports bras. It simply comes down to personal preference on the type of support and coverage you prefer. Keep reading below for our picks for the top five best support bras for big boobs.
What makes a good support bra?
A good bra is one that offers ample support, comfort, and fits to a T. Whatever type of bra you prefer, be it a wireless bra or one that has an underwire, having ample support is key, especially for women who have large cup sizes. The last thing you want is an ill-fitting, flimsy bra that leaves you feeling less than supported.
Here at Glamorise, our bras are always designed with comfortable support in mind. Our MagicLift bras feature our innovative wire-free design that crisscrosses under and over the bust for secure support and a reinforced inner-bust band that does the heavy lifting, no wire required.
If you prefer an underwire bra, our signature WonderWire bras take support to new heights. Glamorise underwire bras feature a padded underwire with an extra layer of cushion to prevent wire poke, so all you'll feel is the support, never the wire.
For exercising or even everyday wear, sports bras are a great choice for when you need the most support you can get. Sports bras are designed to prevent painful boob bounce during higher-impact activities. Glamorise carries both wire-free and underwire sport styles that provide secure support for women with larger cup sizes, both in and out of the gym.
Like other bras, there are a few things to consider when shopping for support bras:
Support Level: Consider the amount of support you need from your bra. Where do you plan to wear this bra? Do you need a lightweight, everyday bra, or are you looking for a supportive bra to wear during higher-impact activities or workouts? Depending on the amount of support you need, consider whether you want an underwire bra or wireless bra. Generally speaking, an underwire bra will provide more support than a wireless bra.

Comfort: When shopping for a support bra, consider whether it is a comfortable bra for you. A good bra will be made of buttery soft fabric and have wide, adjustable straps that are customizable to your fit. Some women also do not like rigid underwires and prefer the comfort a wireless bra provides.

Design: A support bra does not need to skimp on style. There are beautiful lace bras that still provide the support you need. Consider what style you are looking for, whether it be a T-shirt bra, lacy plunge bra, or a full-coverage bra.
5 Best Support Bras for Large Breasts
If you're looking for the best bras that will provide unbeatable support, look no further than these five. These styles have made the cut as our picks for the best support bras for big boobs. Keep reading below to find your new favorite support bra:
Most Supportive Wireless Bras
Price: $48
Review: 4.6/5 Stars
We couldn't rank the best bras for women with large cup sizes without including the MagicLift Original Support Bra . This wire-free bra is a tried and true bestseller that always ranks at the top of our list. With our signature MagicLift design that lifts and shapes without a wire, wide, cushioned straps, and a classic full coverage silhouette, this bra is a must-have for any woman looking for comfortable support. Here is a close up image of the inner-bust band. This feature offers lift and support without an underwire. 
This full coverage bra is available in sizes 36B to 56J, making it a great supportive option for a wide range of sizes. Here's why women think this is one of the best wireless bras for big boobs:
"As a large breasted woman, I only wear Glamorise because the support from these bras is excellent. The support helps prevent back pain and I look good. What more can you ask for?" - Sandra M.
"This is the only bra that fits so well without an uncomfortable underwire." - Sharon B.
"I love it. I ordered another one. Just the right support and no wires!!" - Linda C.
"This is my favorite bra. It just feels like my boobs are sitting in two separate hammocks with top support, too. This bra lets me be [comfortable] without an underwire cutting me off." - Cynthia
You can't go wrong with this classic full coverage bra. You can purchase this bra from Glamorise, linked here .

Best Full Coverage Support Bras
Price: $50
Review: 4.5/5 Stars
If you have big boobs and are constantly on the go, you know the importance of having a full coverage bra that can keep up with you. The MagicLift Active Support Bra is one of the best bras for women with large cup sizes because it combines the comfort of wire-free support with the added breathability of cotton-blend moisture-wicking fabrics. This full coverage support bra features molded cups that lift and shape and a two-way stretch back for a flexible fit that moves with you. This bra is available in sizes 38C to 50K and will fit like it was made for you. Here's why our customers love this bra:
"I'm active and require uplifting support that allows me easy movement. [This bra has] no wires and excellent support. I wore it the whole of my active day without tugging, digging or the need to adjust. I found my new everyday bra at last." - Lydia H.
"I've been on a never-ending search for a wireless bra that lifts the girls, [has] great support, and is an all-around comfortable bra for us DD gals. Thanks to Glamorise my search is over." - Lisa H.
"I like this bra so much that I ordered a second one. It stays put, provides great support, and is comfortable all day. The back does not ride up at all, which makes this 38J very happy." - Cynthia H.
"Great bra!!! No underwire but the support is phenomenal. I also truly cannot feel the straps—these are designed to somehow magically not dig into my shoulders." - Rebecca M.
This wireless bra is also on our best full coverage bras list. It offers all the comfortable, on-the-go support you need. You can purchase this bra from Glamorise here .

Most Supportive High Impact Sports Bras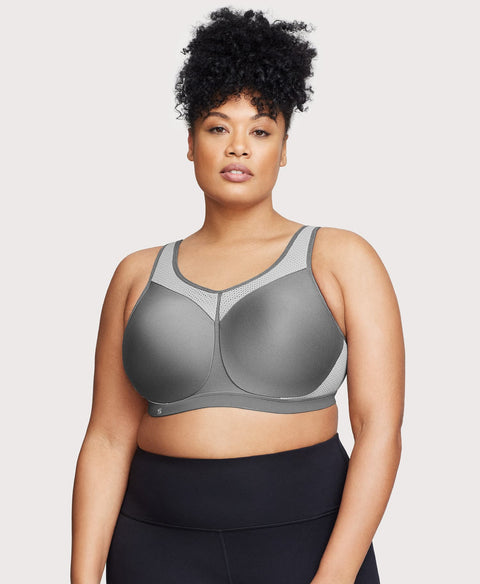 Price: $64
Review: 4.5/5 Stars
For women who have large cup sizes, having a full coverage sports bra is crucial during high-impact activities. The High Impact Seamless Sports Bra is an underwire bra designed to provide the utmost support through any workout, but can also comfortably be worn as a T-shirt bra for everyday wear. This sports bra features a cushioned underwire that won't poke you, seamless non-stretch cups for a smooth fit, and adjustable straps. Available in band sizes 32 to 46 and cup sizes B through H, this sports bra comfortably supports a wide size range. Check out the reviews below for what women have said about this full coverage sports bra:
"Great support. Super comfortable for active wear." - Susan D.
"Very pleased with this bra. Supportive when I'm horseback riding." - Calene P.
"Excellent support for large breasts and comfortable too." - Elizabeth H.
"Very comfortable and great construction. Nice to have a workout bra that doesn't smash you but holds you in place. Big fan." - Karen J.
You can shop this underwire full coverage sports bra from Glamorise, linked here .

Most Supportive Camisole Sports Bras
Price: $41
Review: 4.7/5 Stars
Say goodbye to painful boob bounce for good in the No-Bounce Camisole Sports Bra . This full coverage bra is a favorite for women looking for total coverage and total support. It features non-stretch wireless cups for support and a breathable mesh insert that provides upper bust containment—a must-have for women with big boobs. Here is a close up image of what the breathable mesh looks like.
This bra is available in sizes 34C through 50J, and provides secure support in any size. But don't just take it from us, this sports bra is a favorite among our customers, too:
"This is my new favorite bra. It is very comfortable and supportive and is the only bra I do not want to tear off at the end of my work day." - Christine S.
"Can't believe I finally found a sports bra that fits and supports. I have now bought three. I even like wearing them during the day. I really like the top coverage." - Ann P.
"Big boob gals rejoice! I was very impressed with this bra. It is full coverage but that's what my girls need. I wore it to a zumba class and jogging/walking and it was the best bra I've found so far. The material isn't very stretchy, and the lack of stretch really helped keep girls in place and helped to provide support for my back." - Sarah R.
Add this best-selling sports bra to your collection—we think you'll love it. You can shop this bra from Glamorise, linked here .

Most Comfortable and Supportive Underwire Bras
Price: $53
Review: 4.5/5 Stars
The Low-Cut WonderWire Lace Bra is an elevated version of the classic everyday T-shirt bra. This plunge bra features lower-cut cups, an underwire surrounded by extra cushion, and wide, padded straps that keep your shoulders comfortable. Here is a close up image of what the soft padded straps look like. 
Plus, the lace-topped cups add a pretty touch. This underwire bra comfortably supports band sizes 34 through 48 and cup sizes B through H. Here's why women of all sizes love this supportive bra:
"This is the most comfortable bra I have worn in years. I love the straps on my shoulders it helps to not hurt so much." - April W.
"I love it. This is the first bra that has actually fit in 50 or 60 years. It is comfortable, uplifting, and the straps do not fall down." - Sharon S.
"When I put on this bra, I feel like I could rule the world. Perfect fit." - Stacey B.
"Very good quality. Perfect support for my large breasts." - Anna B.
Elevate your everyday bra with this supportive underwire style. You can shop this bra on Glamorise.com .
Concluding Thoughts
If you're searching for a supportive bra, the five bras we've listed here are our picks for the best bras for big cup sizes. You should never have to sacrifice support when buying comfortable and cute bras. Whether you prefer to go wireless or need the added support an underwire bra provides, Glamorise bras have you covered and are available in sizes 30G to 58I.
If you didn't find a bra you were looking for in this list, check out our full collection of wireless, underwire, and sports bras that all offer great support. If you'd like personalized recommendations, answer a few simple questions in our Bra Finder Quiz and we'll send you a list of the best bras you'll be sure to love.
About the Author
Maeve Gesualdi is a Fordham University alumna where she earned a Bachelor of Arts in Communications and Fashion Studies. Based in New York City, Maeve is part of the marketing team at Glamorise. Maeve regularly interacts with customers via social media and product reviews, as well as with influencers and models. She is constantly getting feedback on our products as well as gaining a better understanding of what women in our category struggle with and/or look for when searching for a bra. Aside from writing, she is passionate about all things travel and fashion.



Related Posts:
Lift, Shape, and Support With Comfort and Style